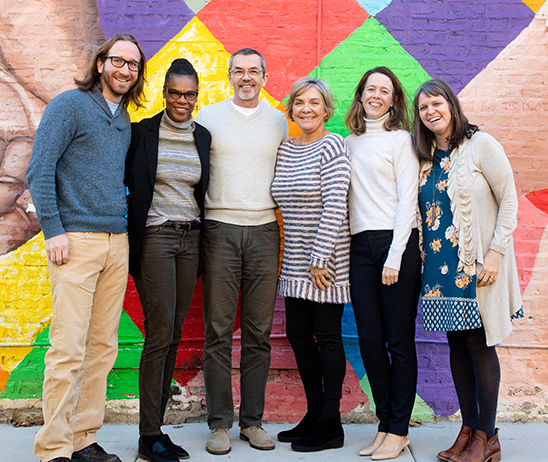 Christine Curran
Since 2008 when Christine Curran moved to Chicago from the East Coast, Bellarmine Jesuit Retreat House has become her spiritual home away from home. She's made the 35-mile trek from Rogers Park to Barrington Hills at least 10 times to drop everything and spend a weekend in solitude (and silence) and another 10 to help others replenish and revive their faith amidst the inspiring nature.
Her personal retreats have become a lifeline.
It's the journeys she makes with men and women who are in recovery from homelessness and addiction that have led to profound experiences of God's hope and grace.
Encountering God's Love
As Director of Programs with the Ignatian Spirituality Project (ISP), a Jesuit organization that invites men and women in recovery from homelessness and addiction to encounter God's love, hope and healing through retreats, Christine works with ISP staff and volunteers to make life-changing retreats possible. Each year, Bellarmine Retreat House welcomes two groups of ISP participants on retreat. The cost for these retreats is completely underwritten by Bellarmine, thanks in part to a generous grant.
There, retreat leaders bring to life the parallels between the Ignatian Spiritual Exercises and the 12-Step tradition and in a reflective spirit to help open eyes and hearts to God's love for them every day.
"When we are sitting in the circle you can almost feel and see when our retreat participants come to know they are loved by God," says Curran. "Perhaps for the first time they realize God has always been with them, that God walked with them through the most difficult times, and that they are not alone."
It's especially powerful, says Curran, because Bellarmine not only offers a beautiful and tranquil spot for prayer, but the evident warmth and hospitality of the staff make everyone feel "connected and cared for."
A Transformative Experience
From the tags on their door with their names, to private rooms with a real bed and not a cot or sleeping bag on the floor, to the hospitality and welcoming smiles, the entire experience is transformative, she says. For men and women who have found themselves without the comforts of home, the delicious meals at Bellarmine are a real tonic. Together all of this provides a safe, stable, and dignified place to help men and women in transition from homelessness and in recovery find peace and inner strength as well as a place where they can begin to hope for the future.
"The quiet, the meals, the hospitality, all of it makes them feel and see a loving God," says Curran. "For people who are barely hanging on, Bellarmine is a powerful place of healing."
The experience of a Bellarmine retreat is a special place to encounter the spirituality of St. Ignatius of Loyola, says Curran. In addition to ISP retreats, Bellarmine has also been the destination for the annual retreat for the Ignatian Volunteer Corps in Chicago, where Curran previously served as Regional Director.
"One of the graces of Bellarmine is the silence," says Curran. "It's a place of encounter with God. It sets the table for you to be encountered, not for you to force or make an encounter happen. In many ways it is counter-cultural, and you really must ease into the silence. You can't really listen to what God is saying if you're consumed with the noise and distractions of your life. It's only then that you can allow yourself to experience Jesus' healing and to trust this intimate and unique experience. When I'm there, I have the space to say: 'God, I really need your guidance.'"
Silent retreats at Bellarmine can be very powerful for people in transition to set their struggles aside and focus on moving into a deeper relationship with God, says Curran. "The retreats allow you to experience God's unconditional love in a very meaningful way."
Pulled into Ministry
She speaks from personal experience. Before moving to Chicago 12 years ago, she was a journalist working in Washington D.C. when she felt God pulling her to ministry.
"I was working for a magazine in a highly political and intellectual environment, but something was missing," she says. "I started going back to church and that began my journey, trying to listen to where God was calling me."
That journey led her to Chicago where she worked with Franciscan Outreach, a homeless services organization, and eventually her current position with the Ignatian Spirituality Project.
"Retreats have been a very important part of my journey" she says. "Having the time to reflect and listen to the small, quiet voice inside has been life-changing. I am privileged to have discovered my vocation is being able to help others do the same."